During his presidential campaign, Joe Biden promised to make sweeping changes to US immigration policy, claiming that he would reverse Trump's deeply damaging and outright xenophobic restrictions.
From Trump's 'Muslim ban' to his hardline border policies, Biden criticised the former President's approach to immigration, instead proposing a number of ways in which he would transform the US system to make it more humane. 
Since being in office, Biden has followed through on many of his pledges – specifically when it comes to reversing Trump's policies. And yet there are those that he has failed to uphold, diminishing the sense of hope he had inspired in millions across the nation. 
What changes has Biden made to US immigration policy?
So far, Biden has tackled various aspects of Trump's immigration legacy and has rightly been praised for doing so. Under the Trump administration, over 5,000 children were separated at the US border. To combat this, Biden signed three executive orders in February, one aspect of which was directed at reuniting those families that had been separated under Trump's 'zero tolerance' border policy. 
The executive orders also moved to rescind Trump's 'public charge' rule, which made it increasingly difficult for poorer migrants to acquire permanent residency in the US. On his first day in office, Biden presented an immigration reform bill to lawmakers which would enable an estimated 11 million people living in the country unlawfully to access an eight-year pathway to citizenship. 
He also scrapped Trump's widely criticised 'Muslim ban' which blocked travellers from 13 mostly Muslim-majority and African countries. Biden similarly immediately suspended the construction of Trump's infamous US-Mexico border wall and abolished the extreme vetting practices that have led to an excessive number of rejected visa applications. 
Empty promises or a broken system?
While there is a lot to celebrate about Biden's moves to create a less hostile immigration system in the US, some of his actions have regrettably sounded alarm bells. 
Throughout his presidential campaign, Biden promised zero deportations within his first 100 days of office. However his order was blocked by a Trump-appointed judge who ruled against the 100-day deportation suspension. Since this ruling, asylum seekers have continued to be deported from the US, with many seeing this as just one attempt by Trump loyalists to intervene with Biden's agenda. 
While some are claiming it would be unfair to hold Biden directly responsible for these continued deportations, migrants' rights organisations and activists are highlighting that he is failing to implement the radical changes needed to overhaul the US' restrictive immigration policy.
It remains unclear whether the Biden administration will appeal Judge Tipton's injunction, leading many to question why the President is failing to fight for the deportation suspension. What's more, this ruling does not require ICE to schedule deportations to resume at their previous pace – Biden should and could be prolonging these but as of yet, he is not.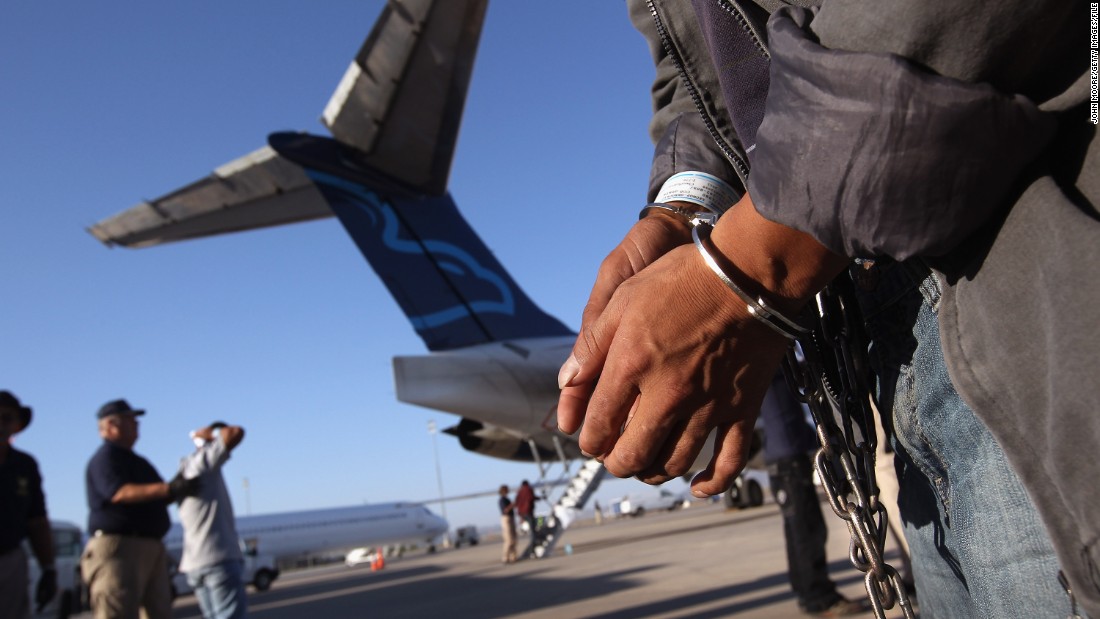 Further aspects of the US' resumption of deportations are also sowing seeds of doubt. At the end of January, the then-acting homeland security secretary, David Pekoske, laid out guidelines which called for deportations to be limited to suspected terrorists, convicted felons deemed a threat to public security, and undocumented people caught on the border after 1st November.
Yet shortly after this, activists revealed that 23 Africans were still set to be deported in early February – a flight which would have defied Pekoske's order. US immigration and customs enforcement eventually cancelled the deportation flight to West Africa, but only after allegations emerged regarding brutality by ICE agents towards the deportees. 
Judge Tipton's ruling does not require ICE to schedule deportations at their previous pace – Biden should and could be prolonging deportations but as of yet, he is not
While the cancelled deportation flight came as welcomed news, it remains deeply concerning that Pekoske's order alone was not enough to deter US enforcement from carrying out the deportation, leaving activists sceptical of the new administration's commitment to enact substantive change. 
Detention facility changes
Another controversial element of Biden's immigration strategy thus far is his decision to convert detention facilities into 'processing centres' and his reopening of Trump-era border shelter used to house unaccompanied teenagers crossing the border from Mexico.
Facing mounting criticism, Biden commented: "Our hope and expectation is that it won't stay open very long, that we will be able to provide for every kid that comes across the border to safely be housed in a facility that is licensed". However, Rep. Alexandria Ocasio-Cortez spoke out against the use of such shelters to temporarily house children crossing the US border, writing via Twitter: 'This is not okay, never has been okay, never will be okay – no matter the administration or party.'
While it is true that transformation will take time, Ocasio-Cortez wrote that progressive change requires 'reimagining our relationship to each other and challenging common assumptions we take for granted'.
It is easy to assume that Biden faces no other option but to reopen these shelters to deal with the rise in minors crossing the border during the pandemic, however there is no justifying why these facilities remain unlicensed and continue to be contracted out to for-profit companies. As a bare minimum, this ought to have been addressed. 
Biden must be dedicated to entirely reforming US immigration policy – from dismantling detention facilities to defunding ICE – if he is to make the changes necessary.