As Britain officially left the European Union on Friday 31st January – with no 'oven-ready' deal contrary to what the Prime Minister's exhausted soundbite suggests – one Brexiteer's xenophobic message rippled across social media.
Speak English, or leave.
The 'Brexit Day' notice, addressed to tenants of a Norwich tower block, declared that the people of Britain 'finally have our great country back' before spiralling into an offensive caution to those who dare to speak a language other than English.
Asserting that only English would be tolerated within the building, the writer – hiding behind the protective blanket of anonymity – urged those who do want to speak 'whatever is the mother tongue of the country [they] came from' to 'return to that place and return your flat to the council so they can let British people live here and we can return to what was normality before you infected this once great island.'
As news of the notice flooded social media, many Twitter users highlighted the irony of the writer's poor use of 'the Queens [sic] English'.
Others criticised the writer's hypocrisy as British tourists and expats who visit or reside abroad are notorious for making little to no effort to learn the language of their host country.
In a 2017 survey, 52% of British expats said that they speak the local language of their host country 'only a little or not at all'. What's more, 62% of the population speak only English, making England the most monolingual country in Europe.
Disappointingly for the writer of the 'Brexit day' notice, their spineless bigotry did not resonate with fellow residents in the way they had perhaps hoped it would.
In a display of anti-racist unity, residents staged a protest to condemn the message. The Independent reported that several residents signed their own notice which read: 'Everyone is welcome here – except bigots.'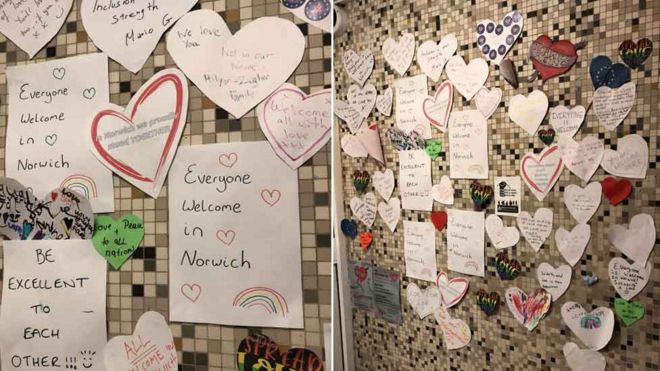 A YouGov poll published on 3rd February suggests that a quarter of Brits and 41% of Leave voters are bothered when they hear those from a non-English speaking country talking in their own language whilst in the UK.
Many have expressed concern that such nationalistic, xenophonic sentiments have become increasingly normalised in the wake of Brexit. Michael Gove, on the other hand, told reporters that Brexit has made Brits 'more warmer' to immigration – further impeccable use of the English language.